Buku The Bridges by Dian Nafi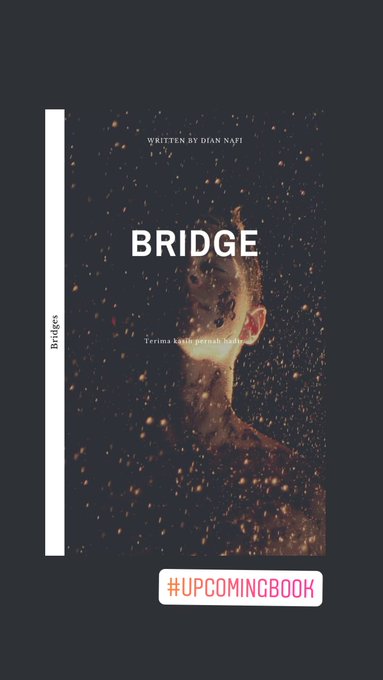 Buku The Bridges by Dian Nafi
Yeay! Alhamdulillah buku The bridges sudah bisa dipesan via
@GooglePlay books. Go grab it!
https://books.google.co.id/books/about/The_Bridges.html?hl=id&id=QEwjEAAAQBAJ&redir_esc=y
#preorder #DNBooks
#thebridges #bridge #bridges https://e_Bridges.html?hl=id&id=QEwjEAAAQBAJ
Apa memang sebaiknya menghindari arah yang pada akhirnya bisa membawa kita patah hati? Lebih baik mengekang rindu, menarik diri, sembunyi? Meski rasa tersiksa.
The bridges adalah kisah tentang orang-orang yang mampir sebentar dalam kehidupan, menjadi perantara kita buat move on, healing dari sakit sebelumnya dan bergerak menuju langkah berikutnya.
Kalau dipelajari ternyata polanya mirip,jika Tuhan mau bantu kita move on tuh gampang aja. Ada kesalahan fatalnya yang tiba-tiba reveal. Trus kita kenal new crush yang meski ketemunya cuma bentar, tapi jadi tumbuh kesadaran kalau ternyata kita bisa kok move on
We can call these new short crushes as bridging people to move on stage. One Week on May dan 24 is Sweet Age itu bridge dari Mayasmara. Man behind the Microphone itu bridge dari uaea. Never Ending Love Story itu brigde dari Lelaki Pertama.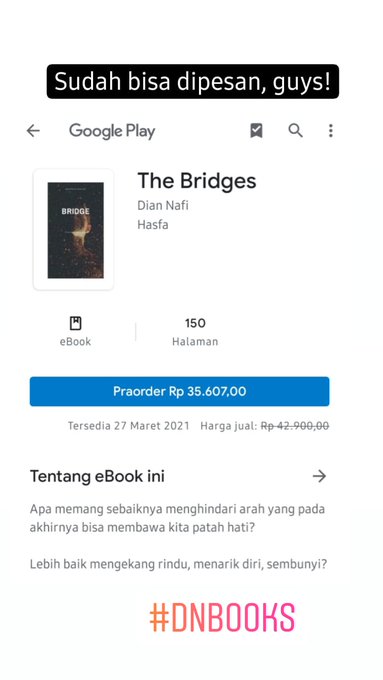 Bridge itu bridge dari Never Ending Love Story. Young Man& Old City itu bridge dari Just In love. Just in Love itu bridge dari Semua Tak Sama. Eaua itu bridge dari Menanti Fajar. Side of Cycle, Geni, Antara 4 Yudi, Sirkus Buku, Mentor, Sprint Master itu bridge antar Never Ending Love Story